With livelooping sounds made by an instrument can be layered, altered, mixed and edited as the music is performed. andy butler produces a wide range of sounds from his guitar by use of special techniques, and by electronic modification. Melodies, beats, bass and a whole range of distinctive guitar and 'non-guitar' tones.
Download mp3s

click here
Watch Video

click here
Scroll down for CD purchase (and more).
Events 2017
Zooplankton / Mike Page B2B Andy Butler


SATURDAY 10 February 8pm
@ "Create Norwich", The Old Church Hall, The street, Trowse, NR14 8SX Norwich, Norfolk

Presented by Plink Plonk



Mike Page B2B Andy Butler:

Maker of unimaginable synthesisers and sound devices, Mike's explorative approach to electronic music making is truly unique. Often incorporating found and domestic objects Mike's systems produce unpredictable and immersive meditative drones which one can easily get lost in.
I'll be, to some extent, filling in the gaps while Mike reconfigures his synths, B2B just means that essentially we'll be swapping over and playing solo quite a lot, with a so far unspecified anmount of crossover time ...but let's see how it all turns out. Expect fragmentation, and deconstruction of loops and more abstraction than usual.


Zooplankton:

Zooplankton are Martin Scaiff on keys, Jesse Barrett (Mammal Hands) on drums and percussion and Steve Mynott on guitar; a Norfolk based trio that perform turbulent improvised music, anchored to a bed of free jazz and prog. Don't miss the opportunity to hear this lesser-spotted beast. Both sets will be accompanied by two Norfolk based visual artists to present a unique audiovisual experience. Digital artist Marian Saunders will be providing her unique responsive graphic imagery to accompany Zooplankton.

£7.50 TBC
Watch out for more livelooping at St Margarets - The Church of Art, St Benedicts Street, Norwich. I often play livelooping sets at public views.
VIDEO FOOTAGE andy butler playing alongside the art at a previous event.
http://www.art-of-norwich.co.uk/
...and it's always worth dropping in to check out the art, regardless of whether there's loops running.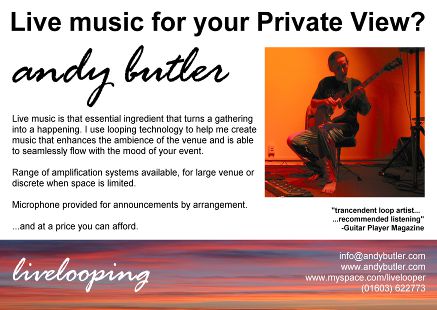 Available for hire, with high quality pa systems capable of dealing with events up to about 300 attendees, or of being as discrete as an acoustic instrument.

Or looking for something different, I'm now able to present a 15-16th Century music on the renaissance lute, and/or Eastern inspired improvisations on Turkish Saz.

CONTACT:info@andybutler.com
Interested in live looping, or just like good music, check out
2008 Norwich Festival of Live Looping
and
2007 Norwich Festival of Live Looping
with mp3s, pics and videos of some of the best international looping artists.