livelooping cd
now available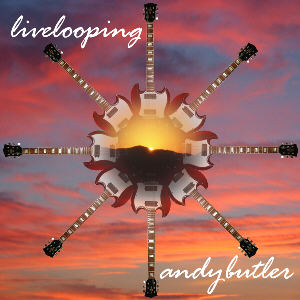 11 tracks of looped guitar, each exploring a different possibility, and each a single unedited performance. Angular melodies, world-beat rhythms, lush chords in classical type harmony, trance sequences, abstract electronica, all woven into a cohesive album of compelling music.

listen to a playlist of excerpts from the album, should work on Windows Media Player, Winamp and i-Tunes.
Find Out More about the CD (and listen to excerpts).
BUY for £6 (GB Pounds Sterling)(+£1 p&p)
Credit card transaction handled by Paypal, or use your paypal account. email me if you'd like to send payment by post.
Now Available, Looper's Delight Compilation Vol3
With an otherwise unavailable andy butler track, this contains a wide selection of looping styles from around the world. High spots include multi-tracked cello from Zoe Keating, lofi dub beats with Ghost 7 and spaced out guitar strangeness from Krispen Hartung.

BUY for £4 (GB Pounds Sterling)(+£1p&p)
MP3 Downloads


backwater(3.4M), the first track from the livelooping cd, available free for personal use, and to share with friends.

live recordings and more ....enjoy.