LiveLooping music is a way of extending your musical possibilities without resorting to the use of pre-recorded or pre-programmed material. Sounds can be layered, altered, mixed and edited as the music is performed. andy butler produces a wide range of sounds from his guitar by use of special techniques, and by electronic modification. Melodies, rhythms and a whole range of distinctive guitar and 'non-guitar' tones.
Download mp3s

click here
Watch Video

click here
Scroll down for CD purchase (and more).
Events 2015
Art of Norwich 42 -
"Beyond the Looking Glass"
LAUNCHES : SUNDAY 13th December – 7:30-9:30pm
@ St Margarets - The Church of Art, St Benedicts Street, Norwich
With livelooping from andy butler at the launch. I'll be playing from 7:30 'till 8:30, so will start very slowly as people are arriving.
Watch out for more livelooping at St Margarets - The Church of Art, St Benedicts Street, Norwich. I often play livelooping sets at public views.
...and it's always worth dropping in to check out the art, regardless of whether there's loops running.
VIDEO FOOTAGE andy butler playing alongside the art at a previous event.
http://www.art-of-norwich.co.uk/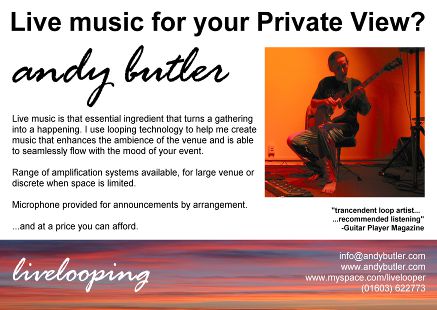 Available for hire, with high quality pa systems capable of dealing with events up to about 300 attendees, or of being as discrete as an acoustic instrument.

Or looking for something different, I'm now able to present a 15-16th Century music on the renaisance lute.

CONTACT:info@andybutler.com
Interested in live looping, or just like good music, check out
2008 Norwich Festival of Live Looping
and
2007 Norwich Festival of Live Looping
with mp3s, pics and videos of some of the best international looping artists.